[ad_1]

Bitcoin (BTC) is in a super rally hitting its highest level in a month due to significant cooling in US inflation data. After the release of the inflation data, the crypto market surged indicating the return of investors and market participants as major digital tokens soared.
As per reports, the inflation data showed the Consumer Price Index (CPI) rose 0.1% in the month of November, cooler than the expected 0.3% rise and a gain of 7.1% from a year ago. In the wake of such positive development, US stocks jumped as the Dow Jones Industrial Average climbed more than 103.60 points, or 0.3%, to 34,108.64. The S&P 500 added 0.73% to 4,019.65.
The Nasdaq Composite rose 1.01% to 11,256.81. The digital assets industry also witnessed a substantial rally as investors anticipate a shift to a smaller interest rate increase by the Federal Reserve.
Bitcoin Reclaims $17K

According to CoinMarket Cap, Bitcoin (BTC) is up 3.70% in the last 24 hours to current hover around $17,800. The bellwether token zoomed more than 6% over the past seven days which indicates de-risking by a large number of investors. Bitcoin's dominance leaped over 0.18% over the past day to 39.28% snapping its seven days of losing streak.
Investors are now expecting a more dovish stance from US Federal Reserve in the December policy with majority predicting a 50 bps rate hike rather than a fourth 75 bps hike in the key funds' rate.
According to analysts at Arcane Research, market participants are currently pricing in an 80% chance for a 50bps hike vs. a 20% chance for a 75bps hike. On December 13, Bendik Schei Head of Research, and Vetle Lunde Senior Analyst at Arcane Research said,
"While Bitcoin has stabilized around $17k with no material action in the last few weeks, this week could be volatile due to several important economic events."
Crypto Market Shoots Up

The global crypto market cap spiralled upwards by 3.26% in the past 24 hours to $870.96 billion. The total crypto market volume over the last 24 hours soared over a massive 44% to $51.06B.  After experiencing a bloodbath in the aftermath of FTX blowup, crypto markets are on a bull run with the focus now shifting toward the Federal Open Market Committee (FOMC) policy meeting. 
Meanwhile, Ethereum (ETH) witnessed an upsurge of more than 4% in the past 24 hours to currently trade at $1,323. ETH is up by a whopping 7.66% over the past week after a rosier than expected inflation report. Edul Patel, CEO at Murudex explained,
"If the bulls can maintain their presence in the market, a breakout above the $1,300 level may be possible. However, if ETH falls from its current level, the next support level would be at $1,251."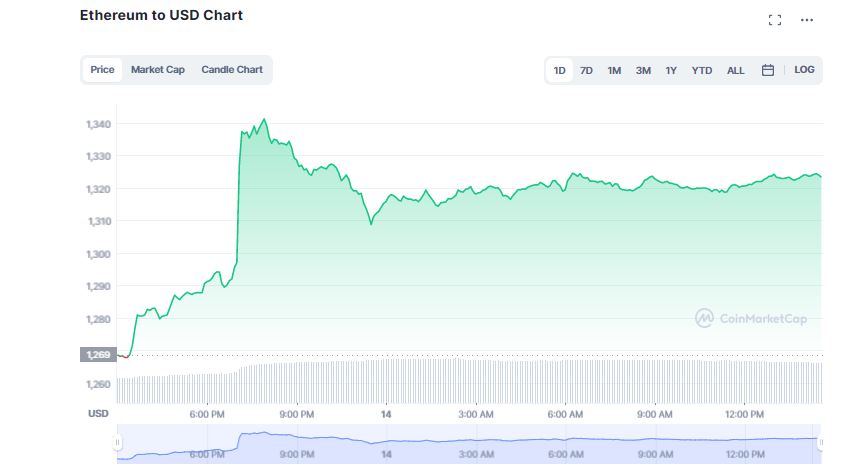 Altcoin Market Awakens

On the other hand, most of the altcoin market noted a memorable 24 hours. XRP, Cardano (ADA) and Polygon (MATIC) observed an upside in the range of 1.85% and 3.60%. Solana (SOL) was one of the most underperforming tokens after the FTX debacle but the tides have changed following a positive CPI numbers.
SOL rallied more than 7% in the past 24 hours to $13.94. Avalanche (AVAX) also gathered steam to increase nearly 8% to $13.69. Furthermore, popular memecoins including Dogecoin (DOGE) and Shiba Inu (SHIB) gained 3.20% and 4.37%, respectively. In a statement, Shivam Thakral, CEO at BuyUcoin opined,
"Central banks in the US, Japan, EU, and UK will release their inflation numbers which will have a significant impact on the price movement of digital assets in the mid to short term." 
[ad_2]

Source link