[ad_1]

Cryptocurrency exchange Huobi is reportedly planning to slash 20% of its workforce after reports of internal strife surfaced on social media. The trading volume of the exchange has also plunged 23% in the past 24 hours.
The ongoing crypto bear market has already claimed several casualities over the past year. High profile crypto lenders including Celsius Network, 3AC, Voyager Digital and BlockFi among others have succumbed to the pressure, filing for bankruptcy protection. Several other companies have announced mass layoffs amid severe liquidity crunch.
The insolvency of FTX, what was once one of the leading crypto exchanges in the world, has further bludgeoned the digital assets industry. Recently, Genesis Global Trading, one of the leading crypto lenders, has announced a reduction of nearly 30% of its workforce amid severe liquidity crisis.
Conflict of Interest
Justin Sun's HR is communicating with all Huobi employees to change the salary form from fiat currency to USDT/USDC; employees who cannot accept it may be dismissed. The move sparked protests from some employees. Exclusive https://t.co/QB4sjDyHc7

— Wu Blockchain (@WuBlockchain) January 4, 2023
According to reports, Huobi is planning to layoff around 20% of its staff owing to the current state of the ongoing bear market. Earlier this week, the crypto exchange had urged its employees to take salaries in stablecoins instead of fiat currencies. Huobi had also specified that if the employees refused to the condition, they might get fired from the company.
The move triggered protests among users causing an internal stife in the company. In addition, it was also reported that the exchange had shut all internal messaging channels between employees to quell the protest.
#Huobi seems to be melting down in real time, possibly along with His Excellency #JustinSun's fortune…

Shut down all intra-employee IMs etc, maybe fired a bunch of people. Employees now angry (or Sun is ruggin') @HuobiGlobal @justinsuntron https://t.co/0PGGHKtX8D pic.twitter.com/VioEzdRwVo

— ⚯ M Cryptadamus ⚯ | @[email protected] (@Cryptadamist) January 5, 2023
The report also suggested that Justin Sun, founder of Tron, who is also a member of Huobi's global advisory board, sent a letter to Huobi employees stating a "structural adjustment" in the first quarter of the year. He noted the restructuring as "short-term pains" that can eventually bring advantages to the exchange. Meanwhile, a spokesperson for Huobi, said,
"The planned layoff ratio is about 20%, but it is not implemented now. With the current state of the bear market, a very lean team will be maintained going forward."
Times of Despair
In the wake of internal strife, the trading volume of Huobi Global and the value of its native token fell sharply. The trading volume dropped nearly 23% in the last 24 hours while the Huobi Token (HT) plunged 7.73% over the past one week.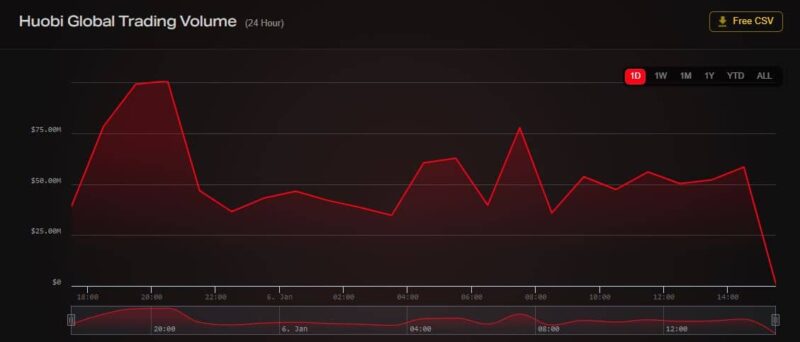 This comes after Sun brushed off speculation around Houbi's potential financial health. On January 5, Sun had tweeted, expressing the business development of the exchange was "good" and the "security of users' assets will always be fully protected."


[ad_2]

Source link