[ad_1]

Ethereum (ETH) experienced a brutal 2022 despite the monumental overhaul known as the "Merge", that shifted the blockchain network consensus from Proof-of-Work (PoW) to Proof-of-Stake (PoS). Since January 2022, Ether has shed nearly 60% of its value, losing about $400 billion of market capitalisation. What is in store for the token in the coming year?
Launched in 2015, Ethereum blockchain shook up the entire crypto ecosystem, with ETH, its native token zooming to become the second largest cryptocurrency by market cap. The Ethereum network revolutionized the way developers harness the blockchain technology to build and power new apps, tools, and non-fungible tokens (NFT). This catapulted Ether from from $0.311 at its launch time to around $4,800 at its highest in 2021. However, the bears have overpowered the bull run since the beginning of this year along with the broader crypto market.
Macroeconomic factors such as crippling inflation, rising Fed interest rates and geo-political tensions have had the most drastic drawdowns in the digital assets industry. It was further fuelled by catastrophic events like the collapse of the Terra ecosystem and FTX. Ethereum (ETH) along with Bitcoin (BTC) and major altcoins have been wrapped in the net ofthe bears, with intermittent phases of growth.
After Effects of Merge
And we finalized!

Happy merge all. This is a big moment for the Ethereum ecosystem. Everyone who helped make the merge happen should feel very proud today.

— vitalik.eth (@VitalikButerin) September 15, 2022
In September, Ethereum's highly anticipated upgrade went live after seven years of hardwork. The Merge was perhaps one of the most significant events in the crypto industry this year. It was believed that the merge will make the Ethereum network vastly more energy efficient and over time pave the way for it to scale up and become quicker. The event was hyped to the point that over 41,000 people tuned in on YouTube to watch the Ethereum Mainnet Merge Viewing Party,
Several Ethereum enthusiasts claimed the upgrade would propel ETH to greater heights as it will make it easier for developers to build dapps, boost a new decentralized ecosystem in the future and reduce Ethereum's energy consumption by more than 99%. However, even after the successful transition, Ethereum (ETH) continues to remain under immense selling pressure.
Ether is Falling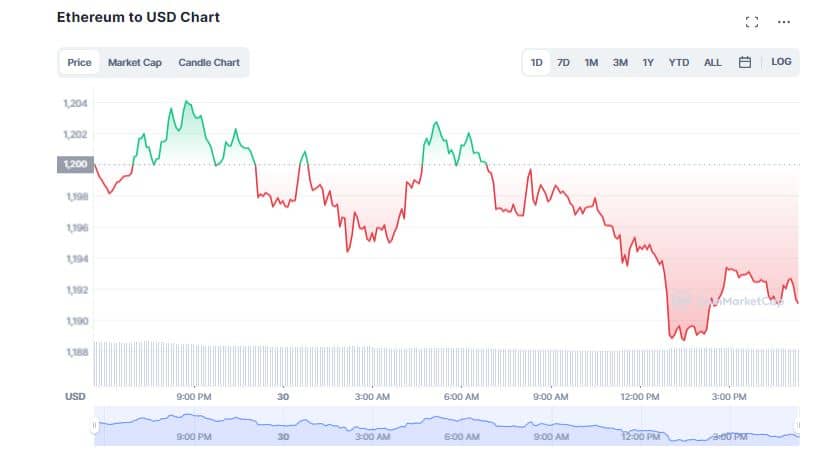 According to CoinMarketCap, Ethereum (ETH) slid 0.66% in the last 24 hours to march towards $1,200. The worl's second larget cryptocurrency is down more than 2% over the past one week. It seems ETH is bearish as the overall trend for Ethereum fails to make any significant gains above the $1,200 mark. The immediate support for Ethereum prices lies at $1,100 which is being tested currently. If this level breaks down, Ethereum prices could continue to fall and reach as low as $1,000 in the near term.
Market experts believe if Ethereum (ETH) prices manage to break above $1,200, then it could move towards its next resistance level of $1,300 and beyond. However, any rally is likely to be met with strong selling pressure as traders take profits when ETH reaches these levels. ETH going through many prices drops this year leaves a trail of uncertainty that is shaking up investors' confidence in many ways.
Ethereum (ETH) witnessed a gradual decrease in its prices as the token dropped to $3,002.96 in mid-January 2022 and further declined to about $2000 mark in May 2022. Eventually, it traded at $1,204.56 on June 14 and was below the $1000 mark, trading precisely at $993.40 on July 19.
Will Ethereum Make a Comeback?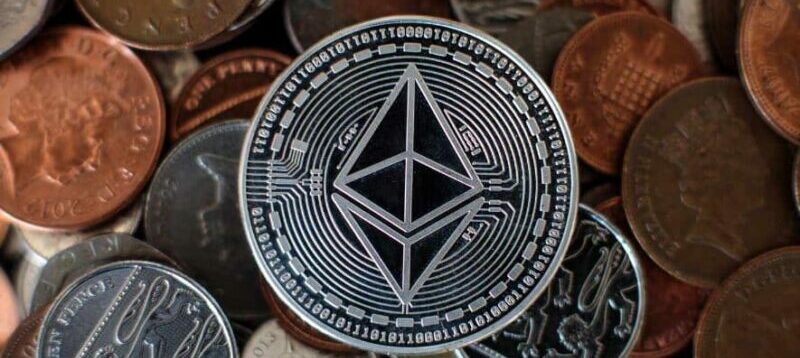 On the flip side, several analysts believe that Ether will make a comeback in 2023. They suggested despite its high transaction fees and slow transaction speed, Ethereum is a valuable cryptocurrency for NFTs. It is also one of the most successful cryptocurrencies for allowing and implementing smart contracts, NFTs, decentralized finance (DeFi) products and services. In additon, experts are waiting to see how investors and companies building their tech on Ethereum's platform respond to the changes.
Ben Ritchie, managing director of Digital Capital Management, says ETH could reach as high as $15,000 in the next 5 years because of the various factors, such as lower gas fees and scalability. Others believe year 2023 could be a testing phase for Ethereum. In a statement, Rajagopal Menon, Vice President at Indian crypto exchange, WazirX said,
"Following a dramatic year, full of ups and downs, the community will be looking forward to some stability and method in the ecosystem. The bear market of 2022 will spill over to the early months of 2023, but it will also mean that promising projects will continue to stand and bad actors will cease to exist."


[ad_2]

Source link